Prague Big Band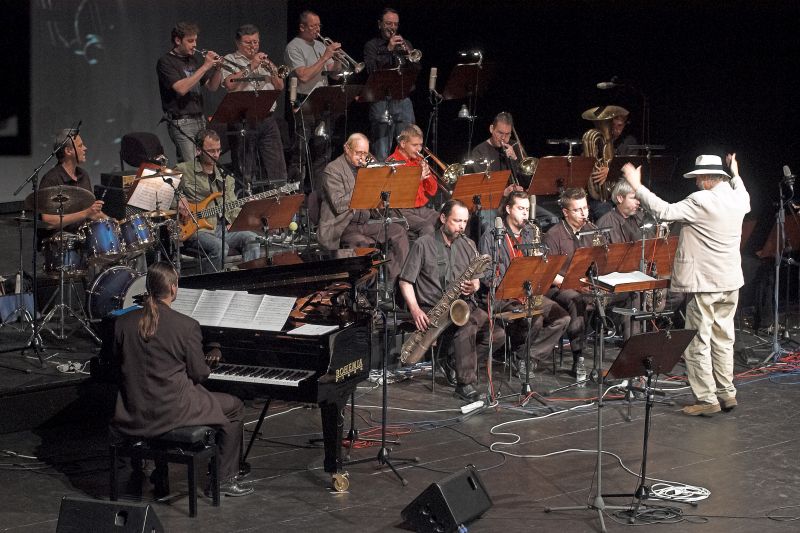 A modern Big Band featuring leading Czech jazz soloists. The Orchestra plays mostly original music composed by Milan Svoboda which is the key to its unique sound. The group performed at many eminent European festivals, gained numerous awards and recorded fourteen albums. The ensemble has featured a long list of well-known personalities of the world jazz scene as guest musicians (e.g. Bob Mintzer, Maria Schneider, Jerry Bergonzi, James Moody, Tony Lakatos and many others). So far Milan Svoboda has been leading and conducting the Orchestra for forty years. Whole generations of great Czech jazz musicians have taken part in the project.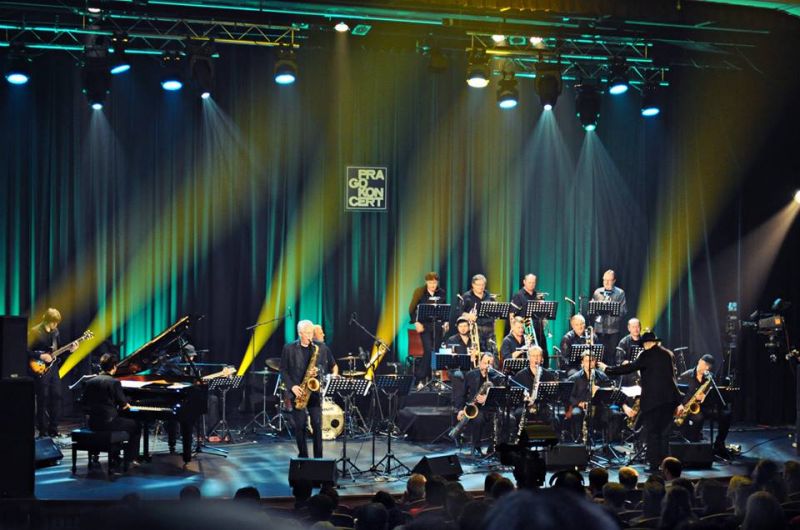 PRAGUE BIG BAND & BOB MINTZER, 40 anniversary concert
Personnel:
| | |
| --- | --- |
| Conductor, leader: | Milan Svoboda |
| Trumpets: | Zdeněk Šedivý |
| | Stanislav Zeman |
| | Radek Němec |
| | Michal Gera |
| Trombones: | Přemysl Tomšíček |
| | Štěpán Janoušek |
| | Ivo Kopecký |
| | Aleš Vopelka |
| Saxophones: | Martin Plachý (1st alto / cl) |
| | Petr Kalfus (2nd alto / bass cl) |
| | Tomáš Křemenák (1st tenor / flute) |
| | Milan Krajíc (2nd tenor / ss / cl) |
| | Pavel Pivarči (baritone / cl) |
| Guitar: | Jiří Šimek |
| Piano: | Jan Andr |
| Bass: | Filip Spálený |
| Drums: | Ivan Audes |
Prague Big Band 40th anniversary concert feat. Bob Mintzer Prague Big Band in Novi Sad Jazz Festival
Milan Svoboda founded his first jazz big band during his studies at the Prague Conservatory in 1974. The ensemble was called The Prague Big Band and quickly made its name among the best Czech jazz groups and gained renown abroad as well. In the beginning the Orchestra drew inspiration from the big bands of Thad Jones/ Mel Lewis, Buddy Rich and Don Ellis. But soon original compositions completely took over the repertoire. During the first decade the ensemble featured Jiří Stivín, Michael Kocáb, Ondřej Soukup, Zdeněk Šedivý, Rudolf Ticháček, Michal Gera and others. The modern sound of the Prague Big Band brought fresh air to the Czechoslovakian jazz scene in the late 1970s. The group regularly won polls as the Best Jazz Orchestra and frequently received high ratings also in European jazz magazines. This period was recorded on albums "Portrait","Reminiscences" and "Poste Restante". The first album itself received a top review and four and a half stars in the Down Beat Magazine.
In 1983 Svoboda reduced the lineup to thirteen members and the group performed for a while as the New Prague Big Band. The ensemble now included Emil Viklický, František Kop, Štěpán Markovič as well as vocalist Mirka Křivánková. Like the Vienna Art Orchestra, the New Prague Big Band now played more avant-garde music. The group's performances at big European international festivals such as Vienne in France, Brosella Jazz in Belgium or Leverkusen Jazz Days in Germany left long-lasting impressions.
In 1984 Milan Svoboda spent eight months in the USA, partly on a scholarship in Boston at the Berklee College of Music. There he collaborated with Phil Wilson's and Herb Pomeroy's big bands. For his feature concert at the Berklee Performance Center he put together an Orchestra of Berklee's professors and students. Among them were Greg Hopkins, Paul Fontaine, Ken Pulling, Greg Badolato, Gordon Brisker and Aaron Scott. A recording of this concert with Svoboda's major composition called Gemini was published on an album entitled "The Boston Concert". Svoboda then spent some time as a guest in Sonny Constanzo's big band. Among the highlights of his American stay were several meetings with his great idol and influence Gil Evans in New York.
On his return from the USA Milan Svoboda was commissioned to assemble an international Czech-Polish Big Band consisting of important jazz personalities of both nations. The lineup featured among others Jan Ptaszyn Wroblewski, Zbygniew Namyslowski, Tomasz Szukalski, Jarek Smietana, Jiří Stivín, Karel Růžička, Michal Gera and Svatopluk Košvanec. The orchestra played successfully for two years on the European jazz scene, appeared at numerous festivals and recorded an album entitled "Interjazz 5".
At the end of the 1980s Svoboda's orchestra witnessed a fundamental change. Another new generation of jazz musicians joined in. A new name Contraband Jazz Orchestra was taken and the group gradually came into being during summer jazz workshops at which Svoboda appeared as a professor. After successful performances at the international Karlovy Vary 1988 festival (Grand Prix prize) and at the big band festival in Dortmund next year (first prize), the Contraband Orchestra convincingly established itself on the Czech and international musical scene. The group's concerts presented as theater and jazz-rock shows were a big success. Great and memorable performances followed at festivals in Germany (Ost-West Nürnberg, Viersen, Mannheim, Heilbronn, Göttingen, Saarbrücken, Ingolstadt, Trier, Regensburg), Austria (Vienna, Wiesen, St. Ingbert), France (Mulhouse, Pau, Metz), Switzerland (Olten), Poland (Krakow, Wroclaw) and all important festivals in Czech. At times the Orchestra features guests such as James Moody, Victor Mendoza, Tony Lakatos and Sigi Finkel. Several concerts were broadcasted by television companies (EBU, WDR, BR 3, T). The lineup, which Milan Svoboda chooses to extend to a full big band on occasion, gradually changed and stabilized itself. The result is a group of eminent jazz musicians including Martin Kumžák, Pavel Pivarči, Radek Krampl, Milan Krajíc, Marcel Bárta, Přemysl Tomšíček, Ivan Audes and others. Albums from this period include "Keep it Up", "Christmas Songs and Carols", "Live at Viersen", "Foam of the Days", "Family" and "Contraband Goes to Town".
Milan Svoboda characteristically determines the Orchestra's sound as a composer and arranger. His compositions have always formed the main part of the group's repertoire. Svoboda also appears as an author and visiting conductor with other orchestras and frequently teaches international big band workshops. THE MILAN SVOBODA JAZZ ORCHESTRA is a top-notch, modern, creative big band, among the best on Europe's contemporary musical scene.
Presently the orchestra performs once again in a full big band lineup (4 trumpets, 4 trombones, 5 saxophones and rhythm section). The latest studio recordings on CD are entitled "Good News" and "Sunday Session".
Latest CD: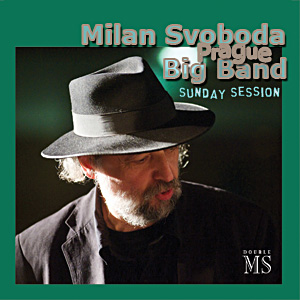 SUNDAY SESSION
Milan Svoboda Prague Big Band
(CD Double MS 2009 - 012009)

album details
Discography:

SUNDAY SESSION
Milan Svoboda Prague Big Band
(CD Double MS 2009 - 012009)

album details

GOOD NEWS - THE BEST OF PRAGUE BIG BAND
Milan Svoboda Prague Big Band
(CD Cube-Metier 2008 - MJCD2842)

album details

CONTRABAND GOES TO TOWN
Milan Svoboda Jazz Orchestra
(CD PJ Music 2002 - PJ018-2)

album details

FAMILY
Milan Svoboda and Contraband Jazz Orchestra (Live)
(CD Lotos 1998 - LT 0068-2 531)

album details

LIVE AT THE LUCERNA HALL
Prague Big Bands, Milan Svoboda
(CD Lotos 1995 - LT0032-2 331)

album details
KEEP IT UP
Milan Svoboda and Contraband Jazz Orchestra
(CD Aurophon 1994 - AU 31627)

album details

CHRISMAS SONGS AND CAROLS
Contraband Jazz Orchestra and pop singers
(CD Lotos 1992 - LT 0003-2 311)

album details

LIVE AT VIERSEN
Contraband Jazz Orchestra and Milan Svoboda
(CD PJ Music 1992 - PJ 004-1)

album details

INTERJAZZ 5
Milan Svoboda and The Czech/Polish Big Band
(LP Supraphon 1986 - 1115 3969 H)

album details

GEMINI
Milan Svoboda Big Band Live
(LP Panton 1986 - 8115 0603)

album details

POSTE RESTANTE
Milan Svoboda, Prague Big Band
(LP Supraphon 1982 - 1115 3115 H)

album details

REMINISCENCES
Prague Big Band, Milan Svoboda
(LP Supraphon 1980 - 1115 2605 H)

album details

PORTRAIT
Prague Big Band
(LP Panton 1978 - 11 0692)

album details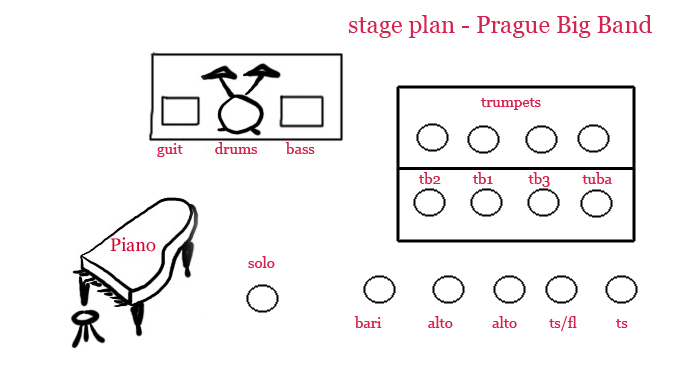 Photogallery
Brno, Moravia Music Fest, 14.11.2016
Praha, Městská knihovna, 18.10.2015, 40 anniversary concert (PBB & Bob Mintzer)
Germany, Passau, Festival Europäische Wochen, 11.7.2015
Polička Jazz Festival, 13.4. 2013
Brno, Moravia Music Fest, 2.12. 2012
Praha, Reduta, 10.12.2011, MS 60. Birthday Concert
Serbia, Novi Sad Jazz Festival, 19.11.2010
Praha, Bohemia Jazz Fest, 13.7.2010
Praha, La Fabrika, Prague Big Band & Jerry Bergonzi
Praha, Reduta, 15.10.2008 (koncert a křest CD "Good News")
Jazz Goes To Town Hradec Králové, 18.10.2008
Germany, Jazztage Görlitz, 2.6.2007
Praha, Studio A, 7.-10.6.2007 (CD "Good News" recording)
Praha, Prague Proms, 13.7.2006
Praha, Divadlo u hasičů, 12.5.2006
Praha, Lucerna, 30.11.2005 (30. let PBB)
Praha, Koncert pro New Orleeans, 28.9.2005
Praha, Lucerna, 29.3.1995 (20. let PBB)
Reviews